Shirley & Fred Hampson
Directors
07 4126 3821 —— 0428 611 452
Directors of Childers Woodgate Funeral Services since 2011 and Burnett Regional Funeral Services since 2007.  Fred is a registered nurse and midwife and Shirley is a qualified teacher.  Fred and Shirley are local people caring for local communities.  Both Fred and Shirley have a proven track record of being caring, considerate, tactful, sympathetic and at all times discreet.  "Where caring comes first" is not just a motto, but something the Hampsons believe in and live by, not only from arranging the funeral but to the after care of families as well.
Whilst Fred and Shirley were initially based in Gayndah, they purchased a house at Woodgate Beach in 2012 and these days divide their time between Woodgate Beach and Gayndah.  They are thankful to have a very supportive team that enables them to work between both businesses.
Childers Woodgate Funeral Services—Where Caring Comes First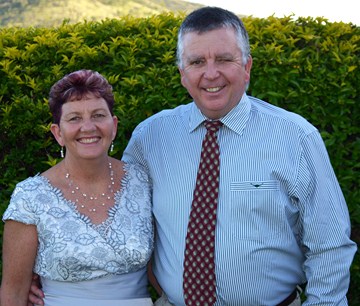 What Makes Us Stand Out?
"Helping you celebrate the life of your loved one in the way they deserve."
"It is not about the price, it is about the value of celebrating the life."
"The first rule in funerals is …. there are no rules."

whatever seems appropriate, or significant, is proper.
If a song has meaning – it should be sung.
If there are special people who can share meaningful thoughts and insights into the life of a person, they should be heard.
If there are special things that have meaning to the person, have them at the service.

It is not always just about the service, but the after-care that will be provided by our caring, compassionate staff.
Our service is available 24 hours, 7 days a week.
Our team of dedicated, caring staff will meet with you in the comfort of your home, at any time that suits you.
The service we offer is personalized, professional, appropriate and at all times, discreet.